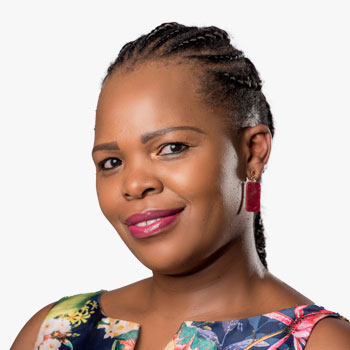 Nollie Maoto
Chief Data and Analytics Officer - Merchant Services, First National Bank, South Africa
Biography
Nollie Maoto is a FNB (First National Bank) South Africa, Chief Data and Analytics Officer within the Merchant Services business unit. She also has a significant profile and responsibilities outside of FNB within the data and analytics community in South Africa, Africa and internationally. She is a CDO Magazine Editorial Board Member, an internationally recognised American tech magazine.and is the CDO Ambassador for South Africa as approved by MIT CDOIQ, CDO Magazine and the International Institute of Chief Data Officers.

In 2022 alone, she was selected as one of the Global Top 100 Data & Analytics Leaders for 2022, was named one of the CDO Global Data Power Women 2022 and has been named as one of the World's Leading Enterprise Data Leaders for 2022. Nollie is winner of the Data Analytics Leader 2022 in South Africa and also won the coveted Finnovex Chief Data Officer of the Year 2022 award.

Amongst her many achievements, Nollie has also been recognised for her leadership and mentorship role of women in data and analytics across the African continent, including being the first and only South African invited to speak at Open Data Science Europe in 2020 and 2022. She runs a female only mentorship program. She is a InspiringFifty SA 2021 nominee and a 2022 SAWIL Trailblazers Awards 4th overall winner for displaying unparalleled leadership values and advocating for gender equality. Lastly, she is a contributing author of the "Breaking the Glass Ceiling - Women in Leadership" book project by Professor Mazwe Majola from the University of Pretoria in South Africa.